In 2016, FRA awarded $27.8 million to MDOT to prepare preliminary engineering and NEPA analysis for an SCMaglev train between Baltimore, MD, and Washington, DC.
MAGLEV DEPLOYMENT PROGRAM (MDP)
The MDP was established in the Transportation Equity Act for the 21st Century (TEA-21) with the purpose of demonstrating the feasibility of Maglev technology. FRA published a Programmatic EIS (PEIS) for the MDP in 2001. Through a nation-wide competition, FRA selected seven states, from a pool of eleven, to receive grants for pre-construction planning. The Baltimore to Washington (Maryland) and Pittsburgh (Pennsylvania) projects were selected for continued evaluation and initial project development.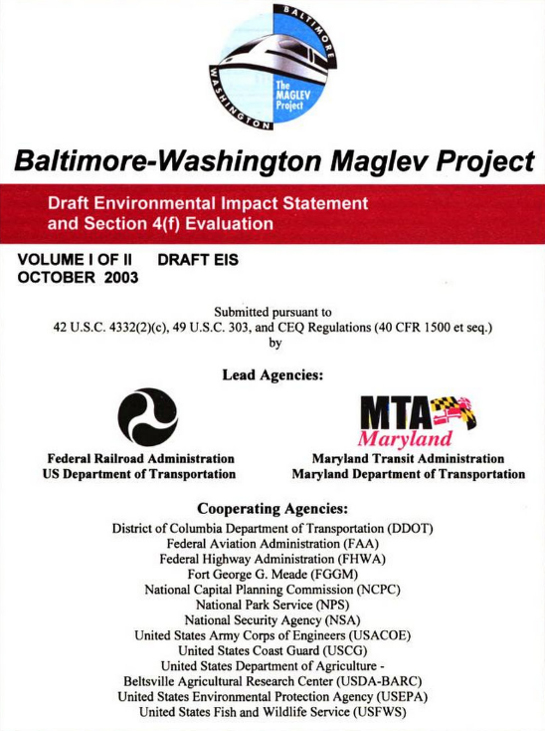 BALTIMORE-WASHINGTON MAGLEV PROJECT
In 2003, FRA in cooperation with the Maryland Transit Administration (MTA) prepared a site-specific Draft Environmental Impact Study (EIS) on a proposal to build a Maglev project linking downtown Baltimore to BWI Marshall Airport and Union Station in Washington, DC. German Technology was selected for the Build Alternative. An EIS was prepared, but Maryland suspended the project and a final EIS was never issued.
DIFFERENCES BETWEEN 2003 DEIS AND THE CURRENT PROJECT
The current project proposes to utilize the Japanese SCMAGLEV system, whereas the 2003 DEIS proposed the German Transrapid system. In addition, the project sponsor for the current project is a private entity.